Day one of the Pro-Am out of the ports of Wilson and Olcott – some nice fish came through to the scales. In the Pro Division, it was Team Maverick led by Capt. Chris LoPresti weighing in a 12 fish limit catch for a score of 258.40 points (based on 10 points per fish and a point per pound). Second place was Dave Antenori's Screamer team with a 12 fish limit and a score of 251.60 points. Third place was Free Spirit led by Capt. Paul Czarnecki with a score of 240.90. Fourth plac
e was Tale Tails and Capt. Brian Garrett with 221.10 points and rounding out the top 5, Wet Net led by Capt. Matt Yablonsky totaled 213.70 points. Big fish in the Pro Division was a 22.27 pound king salmon reeled in by Vision Quest and Capt. Pete Alex.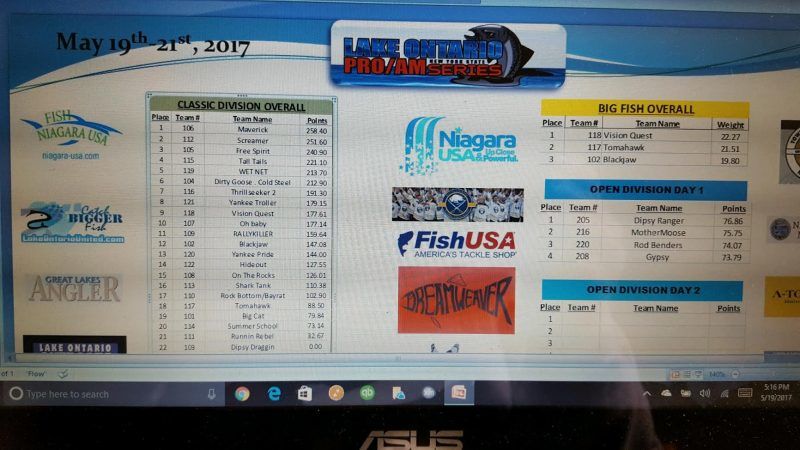 In the Amateur Open Division, based on the best three fish (10 points per fish and a point per pound), Dipsy Ranger was in first with 76.86 for the day followed by Mother Moose with 75.75; Rod Benders with 74.07; and Gypsy with 73.79. Big fish for the day was a 19.43 pound king reeled in by Mean Machine and Kyle Hovak.
Day two was postponed due to a Small Craft Advisory that went into effect at

6:44 a.m.

and is supposed to continue through

6 p.m.

The Amateur Drawing for today's prizes will take place at the Gas Shack at the Wilson Boat Yard at

5 p.m.

according to Penny Hartman. Call her at 716-628-2361 if you have any questions.
Day 3 will be business as usual

tomorrow

.
Am placement Day 1
1. Dipsey Ranger………………76.86
2. Mother Moose……………..75.75
3. Rod Benders…………………74.07
4. Gypsy…………………….…….73.79
5. Mean Machine……………..71.47
6. Rodfather…………………….71.15
7. Playing Hookey…………….69.82
8. Lucky Roll…………………….69.64
9. Salmonboy…………………..66.64
10. Fishin Physician Assistant 64.50
11. 4 Poles…………………….…61.25
12. J & J………………………....60.66
13. Streaker………………….….59.93
14. Salmon Obsession II…..55.23
15. HK1…………………………..54.68
16. King Slammin…………….51.86
17. Show Me Your Bobbers.42.34
18. Big Shadow………………..39.84
19. Anonymous………………..38.21
20. Blue Eyed Lady……………25.95
21. Spoon Fed………………….19.72
22. American Dream…………13.41