Click to download PDF results:
Pro-Am Results
Thrillseeker, Yankee Troller Pace Niagara Pro-Am Tourney
By Bill Hilts, Jr.
In a weather-shortened, fishing-challenged contest, it was Team Thrillseeker led by Capt. Vince Pierleoni of Newfane who rose to the top of the 12-fish Classic Division and Yankee Troller and Capt. Rich Hajecki of Rochester setting the pace in the five-fish Trophy Division as the 31st Annual Niagara USA Lake Ontario Pro-Am Salmon Team Tournament held its first weekend of competition May 30-31 out of the ports of Wilson and Olcott. It set the stage for an exciting second weekend of action June 6-7 for round two with a tight field of 28 teams vying for nearly $100,000 in prize money between the two weekends.
The tournament has a long history of exciting fishing contests and challenging conditions. The Lake Ontario Pro-Am out of Niagara is the grandfather of fishing tournaments and no other event compares when it comes to proven consistency – a win really means something among the fishing fraternity. Thrillseeker is no stranger to the winner's circle; neither is Yankee Troller. This year involved its own kind of challenges, first with the fact that an east wind on Friday changed the lake fishing entirely. Strong southwest wind on Saturday moved things back around again, forcing teams to change strategies.
"I was aware that having a 12 fish limit was going to be critical to place in the money," said Pierleoni at the awards ceremony held at Brookside Banquet Hall in Newfane on May 31, 2015. "When I found that my fish had moved, I went with a spoon program using Dreamweavers to make some changes and ended up taking my biggest fish. It paid off in the long run." Thrillseeker won what turned out to be a one day contest when a hard Nor'easter blew in on Sunday, resulting in a small craft advisory. His score was 237.91 points, based on 10 points a fish and a point per pound. There were seven teams with 12-fish tournament limits – all placed in the money. Pierleoni and company won $6,000 for their Classic win. Rounding out the top seven were: Vision Quest, Capt. Pete Alex of Erie, Pennsylvania with 229.42 points ($2,700); Runnin' Rebel, Capt. Jerry Felluca of Hilton with 222.34 points ($2,100); Free Spirit, Capt. Paul Czarnecki of Waterford, Pennsylvania with 220.78 points ($1,700); Mother Moose, Capt. Bill Davis of Saegertown, Pennsylvania with 208.69 points($1,450); 5 More Minutes, Tony Chatt of West Monroe with 206.58 points ($1,250); and White Mule, Capt. Bob Cinelli of Newfane with 195.22 points ($1,000).
In the Trophy Division, what competitors call the "short box," the best five fish are weighed in separately. Leading the way was the Yankee Troller team with a total score of 122.71 points. They won $2,500 for their efforts. It was another tight race with first through seventh place separated by just 13 points. Second place was Thrillseeker with a score of 119.20 ($1,200); Dave Antenori of Clarks Summit, Pennsylvania and Screamer (last year's big Trophy Division winner) with a score of 113.86 points ($1,000); Capt. Rob Taddeo of Hilton and Hideout with a score of 112.91 points ($900); Capt. Brian Garrett of Cortland and Tall Tails, scoring 110.87 points ($700); Shark Tank and Capt. Greg Gehrig of Oswego with a score of 110.19 points ($500); and Vision Quest with a score of 109.73 points ($400). Big fish for the Classic and Trophy Division was a 20.87 pound king salmon weighed in by the Black Jaw team led by Capt. Mark Keller of Buffalo. They earned a $150 package from ITO Flies.
In the Recreational Open Division for Saturday (May 30), Tom Pearse of Grand Island and the Summer School Team won the day with a three-fish score of 74.70 points. They also earned Big Fish honors with an 18.26 pound king salmon. The total prize package was a check for $650, a Scotty downrigger, a Moor Subtroll unit and a variety of lures and subscriptions from sponsors. Second place was the J&J team and John Baris of Fairport with 69.24 points ($500), followed by Frank Schmidhamer's Reel Scream team from Beaver Falls, Pennsylvania with 66.12 points ($300); Just One More and Bryan Lukehart (65.81 points,$200); and The Big Shadow and Tim Bamberg of Niagara Falls (62.95 points, $100).
For Day Two of the Recreational Open, no fishing took place due to the small craft advisory on the lake. In the blind drawing for the cash and merchandise prizes, top team was Mean Machine and Kyle Hovak of North Tonawanda. Second place in the drawing was Marlow Beis of Grand Island and Leviathan who was heard to say: "I'd rather be lucky than good." Third place went to Balls Deep 3 and Brandon Poole of Newfane. Fourth place was Jim Haun and Happy Hooker from Fairmont, West Virginia. Fifth place went to The Big Shadow and Tim Bamberg of Niagara Falls. The big fish prize was won by Salmon Boy and Joe Oakes. Recreation Open contests are designed to get the weekend warriors out with limited rules and high reward, utilizing a simple format. Each day is its own separate tournament
The premier contest shifts to June 6-7 for the second weekend of the Pro-Am contest. Weigh in will take place at Bootleggers Cove Marina in Wilson, but boats will be running out of both ports – Wilson and Olcott. For more information on the tournament check out www.lakeontarioproam.net.
Thrillseeker with the first place trophies in the classic division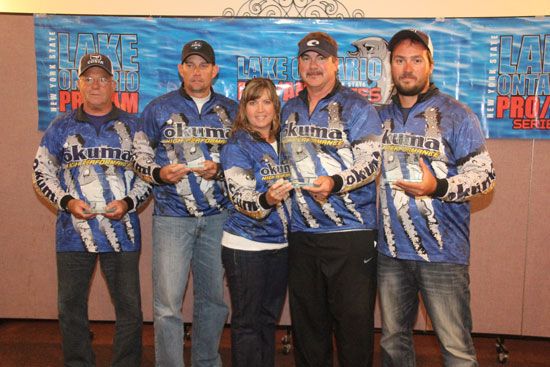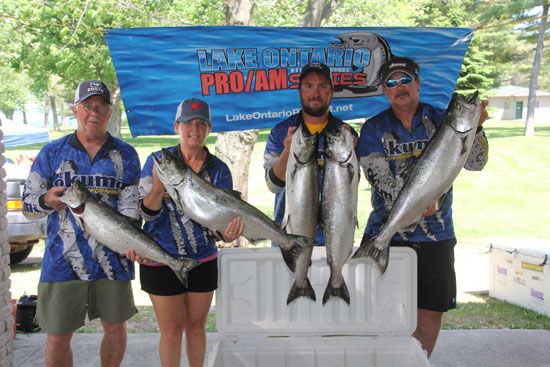 Trophy Division winners – Yankee Troller with a couple nice shots of fish and trophies.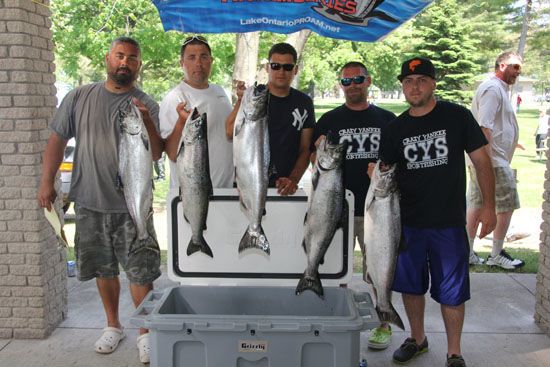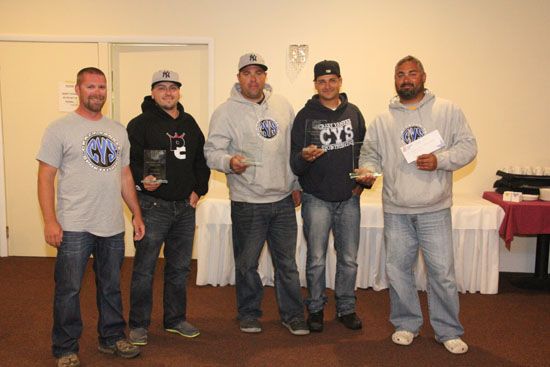 First place winners in the Rec Open – Kyle Hovak and Tom Pearse (R) with their trophies. The first place teams also won, Scotty Downriggers – a new sponsor for the tournament.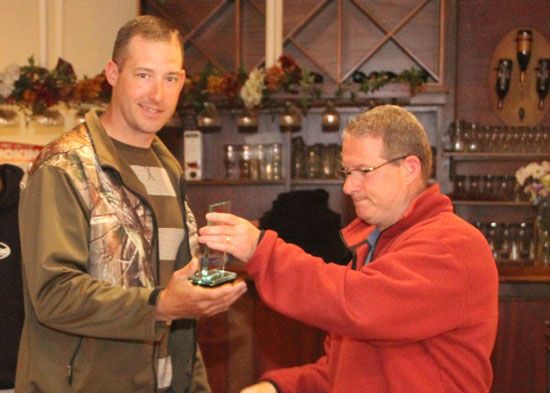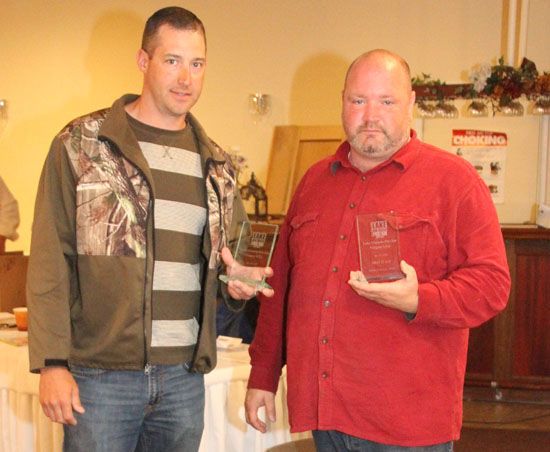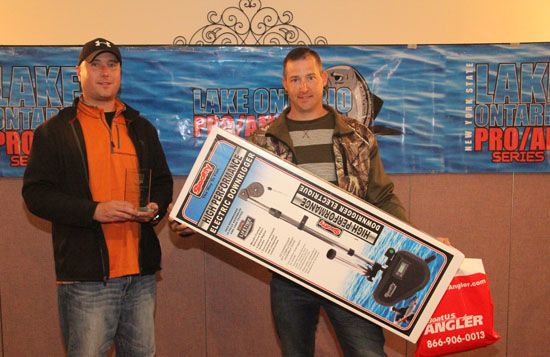 Recreational Open winner for Saturday was Tom Pearse with Summer School. He also caught the big fish for the day, an 18.26 pound king salmon. He would a Moor Subtroll unit for his big king.