After taking over the 12-fish Classic Division lead in Day One of the Niagara County version of the Lake Ontario Pro-Am Salmon Team Tournament, the Yankee Troller team came back with a second impressive box of fish – ranking first on Day Two as well – to win their first Niagara tournament with a total score of 473.43 points. Tournament scoring is based on 10 points per fish and a point per pound.
In addition, the team's consistency paid off in the 5-fish Trophy Division as well to move up from second place after Day One to take over the lead with a total score of 262.28 points.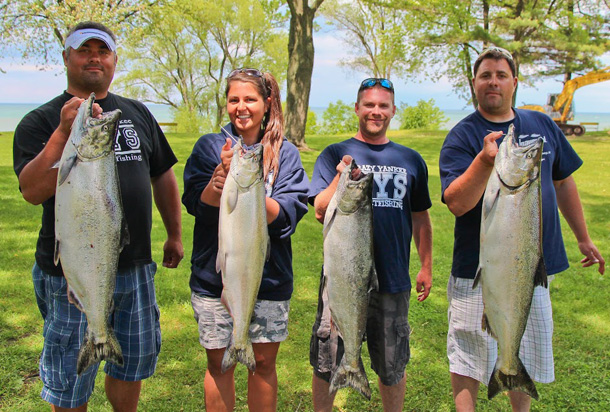 "We found a pocket of fish just west of Wilson that we've been on since the first week of May," said Hajecki as he collected his $9,000 and $4,000 checks respectively for the two divisions. Based on his tournament cup points going into the Orleans tournament next weekend, they are the front runners for the $35,000 prize cup package that includes a check for $20,000 for being the most consistent angler in the two Western Lake Ontario tournaments. He would share no more information as a result.
The second day of the tournament had a questionable start as several storm cells moved through the area just prior to the official start. However, the tournament began on time when weather patterns cleared. Increasing winds forced a Small Craft Advisory to be put into place after five hours of fishing and the tournament was called.
Runnerup in the Classic Division was Dick Dennie of Macedon, NY whose team put back-to-back 12-fish limits for the two day event – the only team to do that this year. Their score of 432.94 points earned them a check for $4,000. They were also in second place after the first day of action. Third place Classic Division team was Free Spirit led by Capt. Paul Czarnecki of Waterford, PA. They scored 418.67 points to take a check for $2,500. Fourth place was Capt. Bob Songin of Rochester and his Reel Excitement squad with 413.46 points. Fifth place was Ace Charters with team captain Jimmy Samia of North Adams, MA, scoring 363.02 points.
Rounding out the Top 10 in the Classic Division were: Sixth, Maverick (Capt. Chris LoPresti, Spencerport) – 348.38 points; seventh, Hi Voltage (Capt. Mark DeSantis, Rochester) – 343.78 points; eighth, Smells Like Salmon (Billy Parkhill, Ransomville) – 342.55 points; ninth, Tall Tails (Capt. Brian Garrett, Cortland) – 313.02 points; tenth, White Mule (Capt. Bob Cinelli, Newfane) – 307.49 points.
In the Trophy Division, representing a team's best five fish for the day, Yankee Troller overtook the Day One leader Hideout, led by Rob Taddeo of Hilton. Free Spirit jumped from seventh to second in the class to check in with a total of 226.49 points. Third place went to Cannonball Runner, led by Ed Monette of Bernhards Bay, NY with a score of 220.53 points. Fourth place went to Songin's Reel Excitement team scoring in at 216.41 points. Fifth place was Good Time Charlie, a team led by Dan Kelly of McKees Rock, PA with 214.05 points.
Rounding out the Top Ten, sixth place went to the Hawg team led by Capt. Jim Gordon of Appleton with 212 points; seventh place was Lone Wolf, Capt. Dan Evans' team from Wilson with 204.74 points; eighth place, Cold Steel, the defending 2012 Challenge Cup Champs led by Capt. Tom Burke of Altmar with 203 points; ninth place, Hideout, Capt. Rob Taddeo with 196.12 points; tenth, Hi Voltage with 193.36 points. Not all teams competed in the Trophy Division, which was a separate entry fee this year. One hundred percent of all entry fees collected were paid out in the Trophy and Classic Divisions for a total of more than $35,000 being paid out to Pro-Am teams.
Some special prizes worthy of recognition include: Big Fish for the Trophy/Classic – a 26 pound king salmon reeled in by Tall Tails and good for a $250 A-Tom-Mik tackle pack valued at $250. Big steelhead Day One was a 8.61 pound fish caught by Hawg and good for a Great Lakes Tackle Supply $200 gift certificate. Day Two was a 7.61 pound fish weighed in by White Mule, also good for a $200 gift certificate from Great Lakes Tackle Supply.
In the Recreational Open Division for Sunday, Salmon Boy, a team led by Joe Oakes of Ransomville, set the pace in the three-fish contest with a score of 82.50 points. Second place was jeff Smith of New Brighton, PA with a score of 69.41 points. Third place went to John Baris and Team Lund with a score of 67.77 points. The team hails from Fairport, NY. Fourth place was the Dipsy Ranger team led by John Nevlezer of Marion, NY with a score of 66.81 points. They also registered Big Fish for the day and the tournament, a 22.70 pound king salmon.
The Recreational Open allows anglers to bring their three best fish to the scales, also based on ten points per fish and a point per pound. One hundred percent of entry fees were paid out, along with an impressive list of products from sponsors Fish Hawk, Moor, NY Outdoor News, Lake Ontario Outdoors, LaRock Outdoors, West Marine, Reid Petroleum, NK Lures, A-Tom-Mik Flies and Shark Weights and Spoons.
Click here to download the NIAGARA PRO-AM Scoresheets.
The Orleans County tournament is set for June 8-9 out of Point Breeze. For more information on the event, check out www.lakeontarioproam.net.